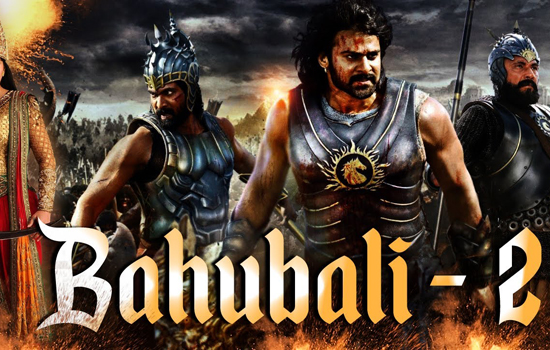 No one from Bollywood made quite as much noise as Ram Gopal Verma before the release of Bahubali 2. RGV might be a pale imitation of past glory and razor sharp wit, but his comment on Bahubali 2 was telling Film maker SS Rajamouli's 'Bahubali 2: The conclusion' has a set a new record in Indian cinema. It has collected Rs 1000 crore in Indian and overseas markets combined in just ten days, therefore becoming the highest grossing Indian movie ever.
Arka Media, the producers of the movie, made an announcement here on Sunday that the magnum opus had indeed achieved this rare feat. Trade tracker Ramesh Bala also confirmed the record through his tweet that Bahubali 2 had collected Rs 800 cr in Indian and Rs 200 cr in the overseas market.
The Government is keen on using the film to promote Indian cinema abroad and exhibit local techniques and movie expertise and likely to showcase Bahubali films as Make in India success story.
The makers of Baahubali deserve nothing less than a salute for peeping into the future and pumping in 430 cr into this colossal project. The pre-production work, which took more than a year, witnessed the making of a whole new language (reminiscent of Avatar by James Cameron), original weapon design and a powerful central role for women smartly in sync with contemporary times. Any such act by a Bollywood producer would be unthinkable.
In 2015, Karan Johar who presents the film in Hindi prophesied before the film's release, "Bahubali is something that Hindi cinema has not witnessed before."
Which is why, more often than not, younger movie stars are NOT part of films that you remember.
Their highly visible faces might be popping out at you everywhere, but they aren't in celluloid stories that you care to recall once you leave a theatre.
यह खबर निम्न श्रेणियों पर भी है:
Headlines today News
,
Bollywood News