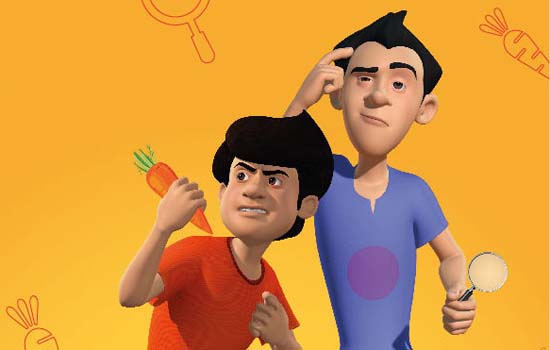 Udaipur: Are you an aspiring super-sleuth and love solving puzzles, adventurous mysteries peppered with a twist of comedy? Look no further than India's first animated investigativeseries for kids from Nickelodeon - "GattuBattu". To be launched in May, the stage is set for kids to fall in love with GattuBattu, their comic capers and the supersonic action.Paving the way through your heart, GattuBattu are all set to up the entertainment quotient for kids only on Nickelodeon, starting 1stMay, 2017 every Monday to Friday at 7.00pm.
Speaking about Nickelodeon's 4th Made in India series Anu Sikka, Head - Programming, Kids Entertainment at Viacom18 said "We at Nickelodeon have always pushed the envelope on innovation by launching shows that are a category first. MotuPatlu, PakdamPakdai, Shiva and now GattuBattu are all unique shows that cater to the discerning needs of our young viewers. Children love mystery and adventure and GattuBattu with its high dose of puzzle solving and comedy is sure to become a run-away hit amongst kids making them the new superstars on the kids' entertainment block."
Gattu-Battu is acontemporary series with India at its core.GattuBattu is a story of two best friends who own an investigative and security agency in a small town called Vishrampur. While Battu is the sixth sense behind every case to be solved, his friend Gattu is the courageous and righteous one. Their hilarious and brilliant cover-ups is what forms the heart and soul of this show. Gattu and Gattu are joined in their fun escapades by Ting Tong, their goofy and adorable sidekick with a flair for martial arts. They together along with Dr. Bhatawadekar and his gadgets come together to fight the notoriously funny villain Sher Singh. The unique investigative home-grown animated show from the house of Nickelodeon is an ultimate blend of action and comedy and is sure to provide a fun filled entertainment experience for kids.
All set for their launch, GATTU BATTU will be painting the country orange and making friends with their young viewers along the way.
It's time to polish your magnifying glasses and join GattuBattu in their riotous investigative journey starting 01stMay, every Monday to Friday @7pm on your favorite channel Nickelodeon!
यह खबर निम्न श्रेणियों पर भी है:
Bollywood News