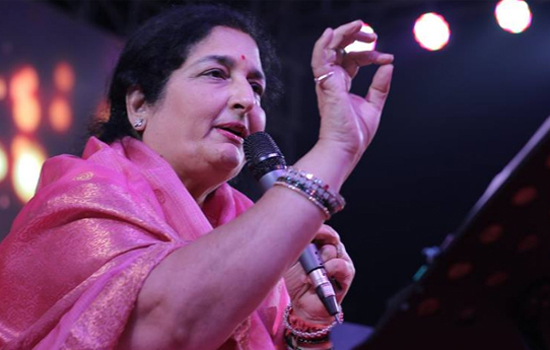 Udaipur: The ever-so-melodious voice of Hindi cinema, Anuradha Paudwal, has time and again made the country proud of her achievements. The singer cum social worker, who has constantly been doing her bit for the betterment of her countrymen, will be awarded with the Indian Government's highest honor for the civilians - The Padmashree Award.
As a matter of great pride for the Indian music industry, Paudwal has been chosen for the prestigious award, taking her immense contribution in the field of music and social service into the account. The award is given to those civilians who have contributed greatly in the field of Art, Education, Science, Business, Literature, Medicine, Sport and Social Service among others.
Speaking to the media on being a recipient of India's highest honor for the civilians Anuradha said, "It is matter of great pride for me and for everybody who have always showered their blessings and love on me, to receive this prestigious honor of 'Padmashree'. I find myself fortunate and blessed to have been a part of this music industry for the last 45 years and continue to do so. The journey has been a roller coaster ride indeed. Since music brought me so much of love, I chose to spread it among each one of us by doing my bit towards helping each and everyone in whatever ways I can. Probably this is what has come as my reward in the form of this glorious award. With this, I only promise to continue serving my countrymen in the greatest ways as more than music, my focus would now be more on social service."
The national award winner who has given some of the major hit and evergreen songs in the early 90s such as Nazar Ke Samne (Aashiqui), Dil Hai Ki Manta Nahi (Dil Hai Ki Manta Nahi) and Dhak Dhak Karne Laga (Beta), was also awarded the degree of D.Lit from D.Y. Patil University, recently.
The Manager of Anuradha Paudwal, Mr. Dev Joshi told that she will also be honored by Shri Chemmamneni Vidyasagar Rao on 18th February for her dedication in the field of music and social services. Suryodaya Foundation: The Suryodaya Foundation has always been dedicated towards human welfare. Doctor Sadguru Bhayyu ji Maharaj is a patron of this foundation. Bhayyu ji Maharaj is a saint for whom human service forms as a big religion .He believes that when we come in this world in the form of a man, it becomes our duty to serve others in all manners. The Suryodaya Foundation has prepared a work-list under which a proposal will be sent to all the universities asking them to adopt at least five children of our soldiers and provide them with the best education facilities. The foundation's proposal has been welcomed hugely by the D.Y. Patil University. It is the belief of the Suryodaya Foundation that when any soldier gets martyrdom on the border, it has major impact on the education of his child/children. If we work together in this field then it will be a positive step in this direction. When families of martyr need our support, we should come forward because it is a good way for offering service to our nation.
Apart from this, to provide electricity to one thousand families of Nandurbar district of Maharashtra state, Suryodaya Foundation is promoting as well as providing solar energy in this region; by this important step electricity will be reaching to those families who are living in dark till date.
यह खबर निम्न श्रेणियों पर भी है:
Bollywood News