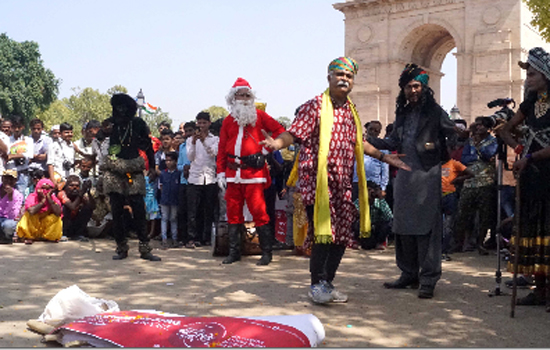 Behrupiya is an ancient interactive art form practiced in India. Once upon a time, Behrupiyas enjoyed a prestigious position in India's royal palaces. It helped the rulers by helping them dress up as people they governed. It also helped them to escape in disguise. Later Behrupiyas would be called to marriages and other occasions to perform as their versatility allowed them to entertain each section of the society.
Behrupiya is a complete play in itself which doesn't require a stage. A Behrupiya is an actor, the singer, the director, the writer, the lyricist, the narrator, and the poet. Now also Behrupiya does different tasks. Just not in character. He is a rickshaw puller, a daily wage laborer, and a mechanic. The struggle is not limited to the decline of the art form. It's monetary too.
Earlier the donations and gifts the Behrupias received were enough to support them and their family. But it is not the case now. With the introduction of other means of entertainment, they struggle to sustain their traditional art and get two meals together. With the aim to conserve and promote this traditional art form, Indira Gandhi National Centre for the Arts, New Delhi in association with Martand Foundation, Udaipur organized a three day "National Behrupiya Festival" from 5th October to 7th October at the amphitheater and lawns of IGNCA. This Festival was clubbed with 'Gandhi Parv' from 3 October to 8 October to enhance visibility and variety. A group of artists displayed their talents to Schools of Delhi and Noida. Sikandar Abbas, a prominent Behrupiya from Gujarat dressed as 'Gandhi ji' became very popular at Schools as well as India Gate where he along with other artistes marched and sang "RaghupatiRaghav Raja Ram".
Festival had numerous innovations. It was inaugurated by 12 representative Behrupuiyas of different states of India by coloring and putting their signatures on the canvas which was later signed by all 70 Behrupiyas and others connected with this festival. Some other special features too were seen this festival. 75 years old SubalBairagya from West Bengal displayed different characters like Husband and wife together, Mother Teresa and HatahthBabu(walking while sitting on a chair). Three generations of one Behrupiya family from Bandikuin(Dausa), Rajasthan namely ShriShivraj Bhand (58) his son Firoz(38) and grand sonArman(15) along with other five other sons attended this festival. Amateur Behrupiyas like Vijay Desai from Goa( Police), Swami Musukurake (School Principal), Swami Khilkhilake (Retired Banker) and Swami Dilmilake( Cloth merchant) all from Ujjain took part.
Fancy Dress competitions for Kids, photography competitions "Behrupiya in Action" for professional and amateur photographers and "Selfie with Behrupiya" competitions made this festival very live. Many visitors with the help of dress expert dressed up as a Behrupiya at "Main Bhi Behrupiya" counter and learned the art of turban tying at "PagdiSafa Sajao" stall from Mahendra Singh Parihar a Safa Expert form Udaipur. Visitors, especially children, and youth stood behind the cutouts of monkey and Hanuman and clicked to share their photos in new Avtaars.
A workshop with the children of Udaan group of Sanjay Tuteja on Sunday morning gave tremendous joy to children as well as Behrupiyas who shared their expertise with young actors.
It was a treat to watch the paintings, photographs, murals, sculptors, and installations of visual artists who displayed their creations making "Behrupiyamay" ambiance.
Artistes from Rajasthan, Gujarat, Maharashtra, Goa, Madhya Pradesh, Andhra Pradesh, West Bengal, Jharkhand, Telangana, Karnataka, Tamil Nadu, and Delhi presented a wide range of Veshas right from Shankar, Vishnu, Ram,Sita,Kali, Hanuman, Narad Bali, Sugreev,Monkey,Swain to Daku,Gabbar, krursingh,Jinn, Rakshshas,Tadka, Pootna, Shurpankhan, Bhut, Oghad, Faqueer,Pandit,Sethji, munem ji, Doodhwala-Doodhwali, Gaduliya Lohar,Sabziwal-Sabziwali,Doctor, Joker, Shikari, Bheel, Blindman, Pagal, Attarwala, Netaji, Gandhi ji, Shayar, Pathan, Arbi Sheikh , Tapori,etc besides statues of Tukaram,Gora kumbhar,Bhagat Singh, Baba SahebAmbedkar and ShastriJi. It was a rare treat for the photographers who saw so many characters at a time. All visitors not only enjoyed and appreciated the Behrupiyas but also took a lot of photos with them. The support of people gave new life to the art form and spread happiness among the attendees.
I was fortunate to conceptualize and curate this festival. The entire artwork was curated by designer, filmmaker Rupesh Sahay, who also played an important role in conceptualizing the festival.
Sunil Mishra(Bhopal) not only shared clippings of the festival with art lovers around the World but also did documentation with PremGupta(Bhopal) and ShashiPrabhaTiwari for preparation of a monograph. Prem Shankar Shukla(Noida), NakulGaikwad(Nasik) and Rajesh Singh (Delhi) shot entire festival for making films. Krishna Kate (Pune) handled entire creative performances on the ground and on stage with KiranJanve.
Head of the Kaladarshana Department of Indira Gandhi National Centre for the Arts, Dr. Achal Pandya with his team Supriya Consul,Rajeev Bhandari,Jawahar Prasad,Anita, Neeraj,Batika, Devika, Devangana and Sunita made this Festival a memorable festival.
Member Secretary of IGNCA,Dr. Sadchittand Joshi inspired me and made this dream true with his guidance and blessing with smiling face. He gave name to the festival as 'Vyakti ek roop anek.'He emphasized on proper documentation so that the out comes of this festival be useful for the scholars, artists and art lovers.
This festival has given me inspiration to hold workshops for the Behrupiyas to strengthen their skills and enhance their quality of presentation to make the able to combat with odd situations.
Motivation of people will play a significant role to uplift this traditional art form.